Press Release: Bonningtons Announce New Website Launch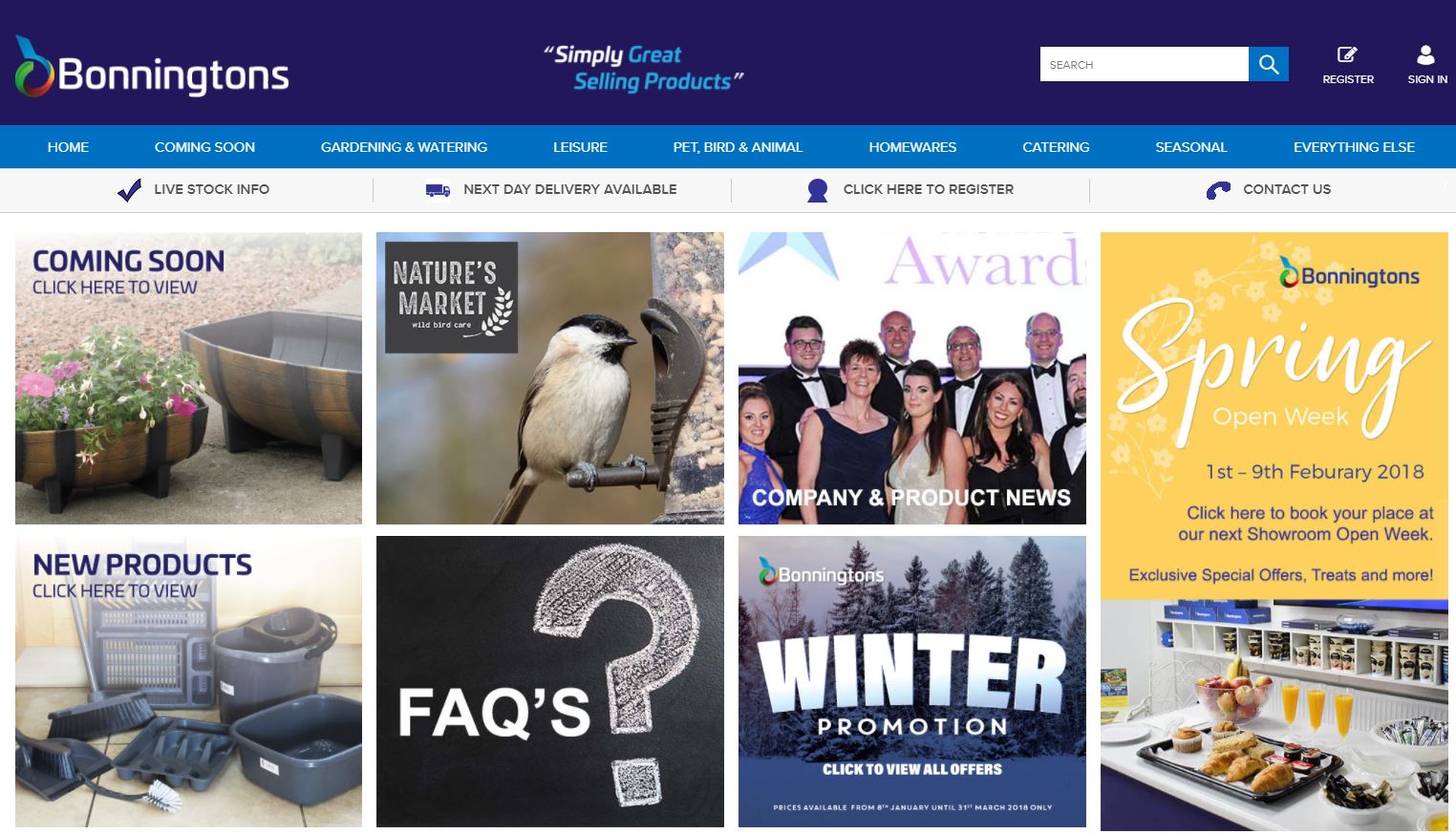 Bonningtons Announces New Website Launch
New customer-led features promise a much improved user experience
Bonnington Plastics Ltd, the Nottingham based importer and distributor of home, gardening and leisure goods, has launched a new e-commerce website.
Developed to make ordering online much easier and more reliable than ever before, the website provides the most accurate stock information to date, which is particularly essential for the company's wholesale, retail and e-commerce customers. Since implementing the hourly warehouse-to-website stock feed, the company reports a significant improvement in order fulfilment rates and customer satisfaction.
Being fully responsive, the website is mobile friendly, so customers now find it much easier to order online at a time and place that suits them. Users have noticed an improved navigation system, with a dynamic menu designed to locate an item in 3 or fewer clicks. There are now also more delivery options available, with the choice of Standard, AM, Next Day and Next Day AM services. The company is keen to point out however, that the website is not just an efficient ordering tool.
"For many customers, the website is Bonningtons, so we wanted to include as many useful features as possible", said Ecommerce and Marketing Manager Dawn Raymond. "As well as placing their stock orders quickly and efficiently, users can now easily access vital information such as instruction manuals, the best-selling items for the month ahead, and other sales and marketing tools".
Product images and instructions can now be downloaded in one click direct from the product page, and customers will continue to be able to view product information videos and download PDF catalogues in an instant.
There is also a dedicated consumer information page, so Bonningtons' trade partners can direct their own customers to the website to access information that they may not have readily available.
The website launch comes after a very busy couple of years for the Company, which celebrated 50 years of trading in 2017, following a major rebrand in 2016. The rebrand saw the introduction of 6 premier brands to sit alongside the company's established Kingfisher range of everyday products, enabling the company to target markets that had been previously inaccessible.
Managing Director, Ian Fisher said
"We are very pleased with the new website, and customer feedback so far has been very positive. The website represents the final phase of the Bonningtons rebrand, and the first step in the next growth stage of the company."
Tel: 0115 985 4119