Bonningtons Celebrates 50th Anniversary with Big Awards Bash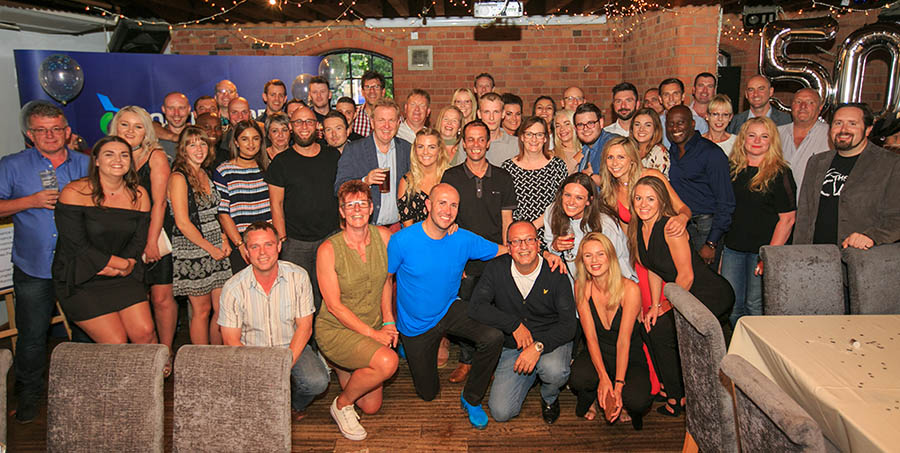 Earlier this month the Bonningtons Directors shut the business early and treated all employees to a big 50th Anniversary Celebration bash at the Canal House, Nottingham.
The evening included delicious food and drink and the annual Staff Awards Ceremony. This year, special stars were awarded to "Escape Room Champions" - individuals who had shown great leadership earlier in the week during a series of surprise Escape Room challenges. Managing Director, Ian Fisher, presided over the awards, and also handed out medals for 1, 5, 10 and 15 years' service.
"As a family run company, it's important to the me and the other Directors to treat our loyal staff well, and congratulate them on their continued hard work" said Ian. "I believe we currently have the strongest team to date and I'm really proud of what they have accomplished so far in 2017. I look forward to seeing them continue to achieve success in this special 50th Anniversary year."
During the evening, Ian took the opportunity to raise a toast to his parents, Paul and Marilyn Fisher, without whom Bonningtons wouldn't exist. They were unable to attend the event, but continue to support the company they founded back in 1967.
The evening was just one of the 50th Anniversary celebrations to be thrown by Bonningtons in 2017, the next one being a big Open Showroom Event which runs between 5th - 14th September. Visitors to the event will be offered very special promotions on core items, and will also be given the opportunity to enter a free prize draw to win £500 off their next order.
MAIN AWARDS WNNERS
Outstanding Performance (Goods Out) - Mallick Camara
Outstanding Performance - The Goods In Team - Dariusz Wieckowski, Krzysztof Szczepanski, Przemyslaw Kowalewski, Andrzej Chrczenko
Outstanding Performance (Put Away) - Mark Baker
Outstanding Performance (Warehouse) - David Rimmer (Warehouse Manager)
Most Improved Sales Person - Shaun Davy (Midlands and North)
Top Sales Person - Karina Apps (London and South)
Best Newcomer - Hareena Johal (Accounts)
Outstanding Customer Service - Leigh Alder (Customer Relations)
Most Improved Employee - Egis Zokaitis (Purchasing)
Outstanding Performance of the Year - Heather Turner (Buying)
Employee of the Year - Holly Martin (Buying Manager)
ESCAPE ROOM CHAMPIONS
Holly Sully (Buying Team)
Becky Collin (Accounts Team)
Annie Bancroft (Management Team)
Coral Hotchkiss (Internal Sales Team)
Shaun Davy (External Sales Team)
Employee of the Year - Holly Martin (Buying)
Outstanding Customer Service - Leigh Alder - Customer Relations
Most Improved Employee - Egis Zokaitis (Purchasing)
Outstanding Performance - Heather Turner (Buying)
Best Newcomer - Hareena Johal (Accounts)
Best Sales Person - Karina Apps
Most Improved Sales Person - Shaun Davy
Outstanding Performance (Warehouse) - David Rimmer