Pricing update 31.10.21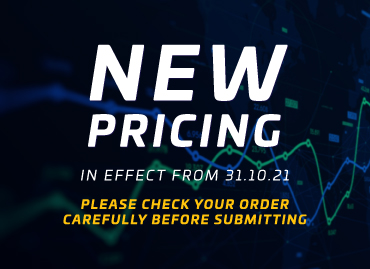 October 2021 Bonningtons Business Update
It has been our most challenging year when it comes to supply chain management, and I wish I could be reporting that things look like they are going to improve. Unfortunately, signs are already showing that this is far from the case, and we feel that things are going to degrade further before they get any better.

Freight Problem continues:
Freight rates are still at an all-time high and they are showing no sign of improving. In addition to this, shipment times are not getting any better - it is currently taking around 12 weeks to receive stock from China. This means that stock we ship today will not arrive until January next year. Monitoring current signs, we see this lasting well into 2022.
Below is an informative video that helps explain the situation which is very similar here in the UK.
https://www.youtube.com/watch?v=QccPG6LfmEs&t=2s

New Energy problem:
In addition to the freight problem, there are increasing energy problems in China that are causing extended manufacturing times and price increases. There is a lack of power in China and many factories are only being permitted to manufacture for 3 days per week. Due to this energy problem, the cost of power, as in the UK has increased substantially, meaning that as well as extended manufacturing times we are having to incur further price increases.
Again, below is an informative video that helps explain the situation in more detail.
https://www.youtube.com/watch?v=uFtTxyW3QTs

Increased Demand:
We have read many reports on the dramatic rise in the number of people taking up gardening in the UK with entire generations taking up the hobby - in particular the 30-40 age group. It is looking that this trend will not change next year and those who are now keen gardeners will continue to be so, especially for "grow your own items", i.e. hanging baskets, greenhouses, pots etc.
We feel that the demand for garden products will be very high again in 2022.

Our Stock Levels:
Bonningtons made the decision to implement our stock build for next year very early. We in fact never ceased shipping after the season had finished in order to build our stock levels ready for 2022. As it stands currently, we have 87% of garden items in stock today which is considerably higher than last year.

What we HIGHLY Recommend:
We urge customers to take delivery of pre-season products as early as possible and to build stock as we do not see our high stock availability and stable pricing lasting very long into next year. We are trying to ship more stock currently and place more orders, however the process is getting increasingly more difficult and more expensive.
Unfortunately, and frustratingly, this is something that we see no sign of improving well into next year.