Business Update 30.06.21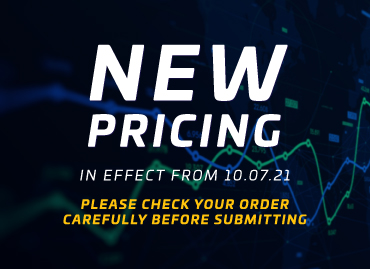 New update 30/06/21

It is amazing how things can change in a matter of a few months.
Following on from my last update (below) things have moved on rapidly.
Over the past few months, we have been absorbing the extortionate price increases that we are being charged for our freight from China even though we have been getting these high freight prices for the last 4 weeks.
We were hoping that at some point freight would come down. Unfortunately, this is not the case, in fact it is the opposite, freight has jumped up to over $16000 for a 40ft HQ and still going up.

There are also several other issues coming out of China at this time; space is hard to get, unless you are willing to pay the high freight costs, a shortage of containers is also not helping and to top it off a lot of manufacturers are putting their prices up.
We have no idea how long this could continue for.
I know most of you are fully aware of what is going on as some of you also import a lot of your own products.
I am afraid we cannot continue to absorb all these increases if we wish to continue to service customers. Unfortunately, this means we will have to increase our prices from 10/07/2021. These will last until the 30th September 2021, as long as freight does not go up even more.
All our current prices will end on this date, if you have orders on our system then these will have to be re-quoted after this date. All orders will be put on hold on this date so please liaise with your salesperson to get these confirmed asap so orders do not get held up.
I know this is not what we all need at this time, especially with all that is going on around us, but we are hoping to be here for some time, which is why we must take this action now.
If you wish to discuss this, please do not hesitate to contact me.
Sergio Tartaglia
Managing Director

Trading Update including Costs and Freight 21/04/2021
Hopefully, we are on our way to the end of all restrictions. With the vaccine now being administered all over the world, we can hopefully look to a brighter future for everyone.
It has been a real roller coaster ride throughout this pandemic, and we are glad that now all our retail customers can open and trade.
As you are aware trading has been challenging and we have made every effort to get stock in asap, where possible, even with the very high freight costs and the lack of space on the ships.
Cost Prices
We have been ordering more stock than we have ever re-ordered for this time of year, most of which is due to arrive from the 1st May.
Unfortunately, every new order we have placed for months has had price increases, ranging from 10% to 40% because the raw material and packaging costs have increased, and the Chinese currency the Reninbi (Yuan) has lost 10% of its value against the US Dollar.
Freight
However, our biggest issue is still the freight, we were hoping this would start to come down over the coming months but because demand is high as world economies start to reopen and the Suez Canal incident this is not happening. Freight is going up again and space on the ships is also becoming more difficult to secure, with a lack of empty containers in China compounding the issue.
Prices
Originally, we were hoping that the freight prices would have started to fall by now and we could start to reduce prices, but instead freight prices remain very high and substantial cost prices increase are happening, so I have to warn you that we are expecting to have to increase prices again.
We feel we can absorb the increases up to the 27th June but anything arriving after this date we have no alternative but to increase, unless freight falls substantially before the goods are shipped which is about 6 weeks before arrival.
This means if stock is not in our warehouse before this date any orders on our system will have to be requoted.
I am unable to give you an indication of what the increase would be yet, this will depend on freight prices. I will try and give you as much notice as possible.
I am truly sorry I may have to take this course of action but again it is really out of my control.
If you wish to discuss this, please do not hesitate to contact me.

Sergio Tartaglia
Manging Director